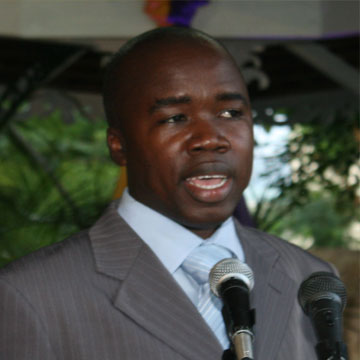 A new line of educational stationery with inspirational messages and pictures aimed at changing young people's behaviour was launched recently. The I Can! brand of exercise books, notepads and other writing material featuring well-known gospel artistes and personalities is the brainchild of Altano and Tamara Morgan, a young entrepreneurial couple whose faith in God and desire to make a difference has thrust them into the competitive printing business. Altano Morgan, who is chairman of Canaan Family Entertainment, got the idea to launch the brand last year, four years after he was made medically redundant from the Jamaica Public Service Company. After viewing exercise books with foreign secular artistes on the covers in a local book store, it struck him that local gospel personalities would make excellent role models for Jamaicans, and their pictures could accompany positive words of inspiration.
After meeting with members of the gospel music fraternity — the likes of Prodigal Son, DJ Nicholas, Jason Mighty, Goddy Goddy, Ryan Mark, Kevin Downswell, Teena Tamara and Nadine Blair – they agreed to be featured on the books. "The faces on the books are used as a puller to bring the message we want to give young people today," said Morgan at the product launch, held at the Jamaica Pegasus Hotel in Kingston last month.
Several of the featured personalities were on hand to "bless up" the occasion. At the footer of each page of the books are messages such as "this subject is not hard because my potential is greater. If I study hard and apply the knowledge well, great success will be my reward. Yes, I (space left for child's name) can!" "So that book is speaking directly to that child," Morgan explained. He has even used the Jamaican language or patois on some of the books, replacing "I will not give up" with "mi nah give up".
He is also grateful to several friends and his church family who have generously given their time and expertise to get the business off the ground. But most of all, he is thankful for what he says is divine intervention into the business to date. "This is a God-given idea," he asserted, to the approval of the gathering. list of websites. It couldn't be a normal book. It had to be a book to transform lives," Morgan said. The principal of the Busy Bee Pre-School and Nursery Andrea Stultz, in endorsing the brand, emphasised the power of words in changing behaviour. "Whatever we say that we will receive, especially if we repeat it enough times," she said.
Guest speaker, principal of Jamaica College Ruel Reid commended the Morgans on "embarking on a project that is seeking to transform our nation". He said at the heart of Jamaica's problems was a dissonance of values. "We have uptown values, downtown values, middle-class values. We need to agree on the values we are going to embrace. Transformation is a difficult process, but it is only possible if our principles are ordered on the principles of God," Reid said